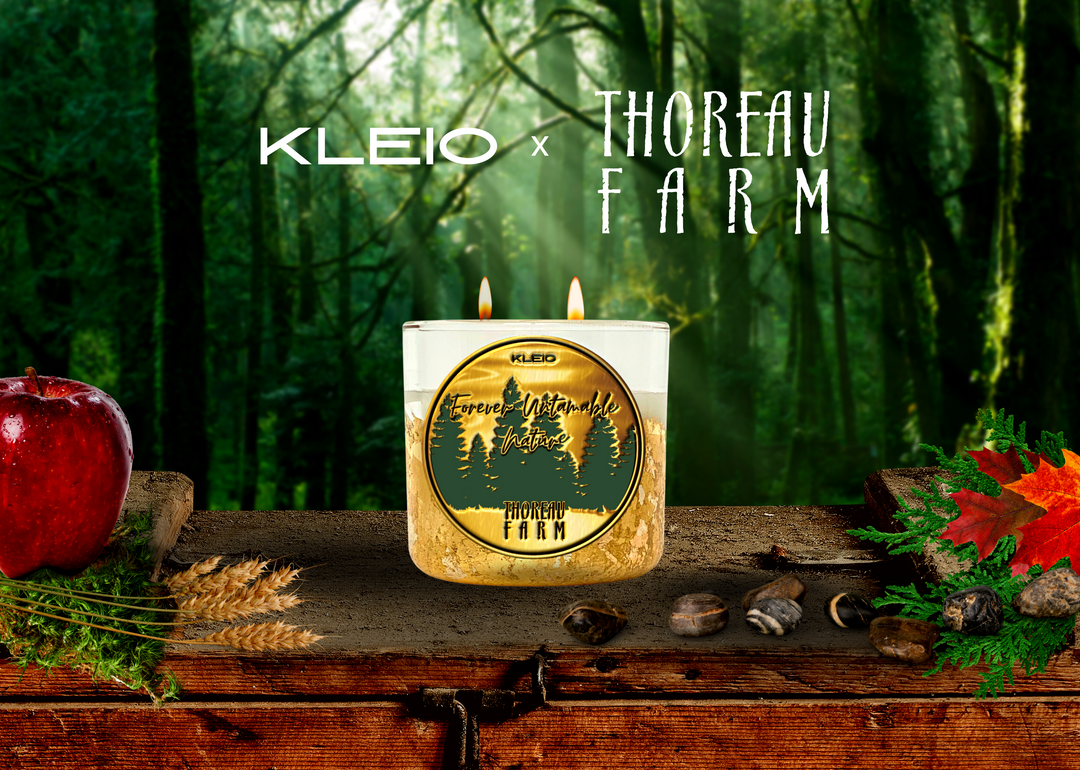 Forever Untamable Nature
Journey back to 19th-century New England with Henry David Thoreau. The KLEIO x Thoreau Farm Collection recreates Thoreau's sensory world as he recorded it.

SENSORY HISTORY AROMAS: Maine Fir, Bedewed Forest Earth, and Mudstone Moss
The Thoreau Farm Collection also includes The Language of These Fields. A portion of the sales goes directly to supporting Thoreau Farm Trust and the preservation of Henry David Thoreau's Birthplace.
In stock

Inventory on the way
---
Free domestic shipping for orders over $150
Thank you for choosing KLEIO as a gift. When you proceed to our store checkout, you will see a text box field in your cart to share your special gift message.
KLEIO relies on the incredible scholarship of historians—from ancient to present day—who have produced detailed texts, books, and first-hand accounts on sensory history.
When researching potential KLEIO concepts, we pore over scores of sources—and collaborate with experts—to ultimately create our interpretation of a select sensory moment in time.
KLEIO candles are phthalate free and dye free. Our fragrance oils are free of carcinogens, mutagens, and reproductive toxins. Each candle features a proprietary coconut apricot wax blend, fragrance oils sourced from perfumeries throughout the world, and high-quality cotton wicks designed to provide an optimal burn. We use a high fragrance-to-wax ratio, resulting in a powerful aromatic experience.
As an artisanal company, our candles are hand finished, featuring hand-applied gold and silver leaf and a robust, heavy-base glass vessel. Each vessel is truly one of a kind—no two are alike.
KLEIO is committed to being an eco-conscious company. While we are past-obsessed, we do so with thoughtful consideration of the future. We believe that beauty and elegance should be in harmony with environmental sustainability. Learn more about how we achieve this.
Large Artisanal Candle
10 oz net weight (283 gm)
3.75" tall and 4" diameter
Double Wicks
Burn time 55+ hours, which adjusts to 0.70 cents per hour of time travel
Hand-finished glass vessel and lid
Mini Candles
3.5 oz net weight (99 gm)
2" tall and 2.5" diameter
Single wick
Burn time 8+ hours, which adjusts to 0.87 cents per hour of time travel
Candle tin
We are grateful for the overwhelming interest and support in KLEIO. We are a small, artisanal company that creates handcrafted sensory history experiences. 
Due to increased order volume, our current order processing window is approximately three to four weeks from the order date. This is subject to change based on order volume. We are working hard to reduce our processing time as quickly as possible.
We deeply appreciate your patience and support.